**Feature Image – Marriott Hotel by Tourism and Event Queensland**
This is a 'researched for you' article to help streamline your holiday planning. I may not have personally visited or used all included products. This blog is reader supported – I may make a commission if you purchase from links – Privacy Policy.
A holiday is a big investment and its a massive disappointment to save all year for a holiday in Queensland, only to find the pool is to cold to swim in!
This usually isn't a problem in summer but when your are escaping winter down south for a pool side holiday its nice to be able to swim in the pool even if the temperature is only low 20's.
However there are plenty of accommodation options on the Gold Coast with indoor and/or outdoor heated pools.
Popular hotels with heated pool include the JW Marriott (opens in booking.com) for its lush lagoon pool and luxury rooms as well as Peppers Soul with it pool deck views in the heart of Surfers Paradise for couples and solo travellers, Sea World Resort at main beach with its play park and heated pool for families and Meriton Suites in Broadbeach if you want a modern 1-3 bedroom apartment with a kitchen.
However if you want to see many options make sure you get the perfect hotel for you there are plenty more resort and hotel options on the Gold Coast with a heated pool.
Hotels with a heated Pool in Surfers Paradise on the Gold Coast
Surfers Paradise is the traditional fun central hub of the Gold Coast. It's walking distance to many cafes and restaurants and is a convenient area to catch buses, get transfers and be centrally located to things in both directions plus easily get an uber to restaurants, the casino, shopping and shows.
Some areas of Surfers Paradise, like Cavill avenue can be a bit of a party scene at times like evenings on weekends, keep this in mind when choosing your hotel (great for some, not for others)!
---
Luxury 4.5- 5 Star
JW Marriott Gold Coast Resort & Spa – Outdoor Heated
The JW Marriott Gold Coast pool is heated and in fact, they have two beautiful outdoor heated lagoon pools, one saltwater with a sandy beach and one freshwater. It's your absolute best true resort option with a heated pool that is still close to everything.
This hotel is a good option if you are happy to be a bit further from the beach (only a 600m walk) and Cavill avenue (1.3km walk) in exchange for staying in a resort with a proper lush resort lagoon pool that is heated and has a pool bar (it's nearby, not swim up).
It also has four restaurants and in room dining so you don't have to leave your resort every night for dinner (or at all if you choose), a bonus when you are tired from exploring!
Plus It's only a short uber away from shopping and dining at the Marina.
This is a luxury hotel so it may be cheaper if you book in advance – it has thousands of positive reviews across TripAdvisor, booking.com and Agoda.
Peppers Soul – Outdoor & Indoor Heated
Peppers Soul has multi tiered heated outdoor pool with parts of it an infinity pool with views over the beach. As an added bonus it also has a heated indoor lap pool and has extremely high customer satisfaction with a rating over over 9 on Booking.com and is much loved on trip advisor with a 2021 Travellers Choice award.
In fact the Peppers brand in general is loved for its luxury hotels with great service. Soul has a tapas and cocktail bar with beach views and the option of a 2 hour bottomless brunch on the weekend.
For an extra level of relaxation, you can book one of their corner suites which have spa baths with ocean views so you can sit back, drink a wine and enjoy the view.
Mid range
Hotels in the 3-4 star range can often be where you can find a lot of value, paying around $150-$350 a night while still getting much of whats on offer in the 5 star choices (I appreciate this is a large price range, but what everyone considers 'value' can be quite different).
Keep in mind if your booking last minute or in the school holidays, these hotels may be priced higher than this range, however if you book in advance out of peak season they can be really good value.
QT Gold Coast – Outdoor Heated
Image opens in Agoda
If you are not familiar with QT Hotels, they are a hotel brand that prides itself on having a bit of quirkiness and a focus on art and design. This gives their hotels a fun holiday feel.
Each property is different and QT explains that the Gold Coast hotel is inspired by the nostalgia of the beach culture of the 50's and 60's. This is evident with design features like the striped pool umbrella and pops of colour in the decor.
The retro styled QT pool is heated up to 20 degrees celsius (QT advised me this via email) and comes with all the kitchy fun of a QT hotel.
As well the QT Gold Coast having a heated pool it's just a few hundred metres from the beach so its the best of both worlds.
Mantra Sun City – Indoor Heated
Images open in Agoda
Mantra Sun City has a nice heated indoor pool with natural light from windows as well as a huge outdoor lagoon pool with waterslides (not heated, but you have the option to warm up in the indoor pool and heated spas).
The Mantra Sun City is really on the cusp price rise of being a budget hotel outside of peak times. While some reviews indicated that it's probably not up to the 4.5 stars as which its marketed, the many positive reviews and repeat visitors (4/5 on trip advisor, 8/10 on booking.com and 8/10 on Agoda) show that generally it is great value for money.
Budget
Budget and cheap hotels are available on the Gold Coast and there are some cheap hotels with a heated pool. However you do need to be willing to prioritise whats important to you and sacrifice some things.
Its even possible to get a great budget hotel right on the beach with a heated pool and everything you need close to the action, it just may be a little more dated than some of the more expensive luxury options.
If you think perhaps you may not cope with a lower standard of accommodation then you might like to consider going for a shorter period of time so that you can increase the standard of accommodation or look at cheaper suburbs or private apartments.
When you book a hotel in this price range, you need to manage your expectations and have an understanding that you are booking budget accommodation. And in the school holidays you will still pay several hundred dollars a night for a room.
Chateau Beachside Resort
Images open in Agoda
Chateau Beachside Resort has an enviable beachfront location (just over the road) and is close to the heart of Surfers Paradise for a very reasonable price tag (often around $100 a night if your staying for the week). Many of their rooms offer stunning ocean views, which you pay a lot more for at other nearby properties.
The rooms are unserviced and the apartments and decor are a bit older, which is how they can offer a premium location at an affordable price. The hotel averages 7.7/10 out of a massive 5000+ reviews on Agoda, 4 out of 5 stars on trip advisor and 7 out of 10 on booking.com which is in line with the standard of accommodation on offer.
---
Hotels with heated pools in Broadbeach on the Gold Coast
Broadbeach is the suburb just south of Surfers Paradise. It has plenty to offer in the way of restaurants, cafes and shopping but the northern section is also still walkable to surfers paradise if your happy to walk few km's. You can even walk all the way there along the beach!
This is a good spot to stay if you want to be close to shopping at Pacific Fair and the Casino and there is a patrolled surf beach to swim between the flags.
---
Luxury 4.5-5 stars
Meriton Suites Broadbeach – indoor heated pool
One of the best rated accommodation by visitors on the whole of the Gold Coast (it has over 12,000 trip advisor reviews) guests love the Meriton Suites Broadbeach for its location, facilities ties and views.
Peppers Broadbeach
Image opens in Agoda
Another highly rated and popular option, Peppers Broadbeach has a heated outdoor pool it says is perfect in all seasons as well as an Endota day spa. Its only about a 350-400m walk to the beach and is walking distance to the Casino and Pacific fair so its a good choice if you want a holiday with a little bit of everything.
---
Accommodation for Families with Heated Pools
Apartments are a good option if you would like to be able to put the kids to bed and sit up. However you usually pay more for an apartment than a room with two double beds in it.
This means if you are a on a budget you need to decided what you want to prioritise, a seperate bedroom, the standard of the hotel, the location etc.
Some of these resorts are very family focused and are great if you want the kids to be able to run a little bit wild and free and have other children to play with at kid focused facilities. You will see from the reviews they get many repeat visitors.
Alternatively, if you are looking to be walking distance from surfers paradise or for a more luxurious option that still welcomes children consider some of the resorts in the above sections. Lagoon pools like the one at the JW Marriott, with a gentle entry and sandy beach in to the water are a good choice for a family friendly pool without sacrificing a luxury room.
Main Beach
The next suburb north of Surfers Paradise, Main beach is still only a short drive/uber/taxi distance away from all the action.
Sea World Resort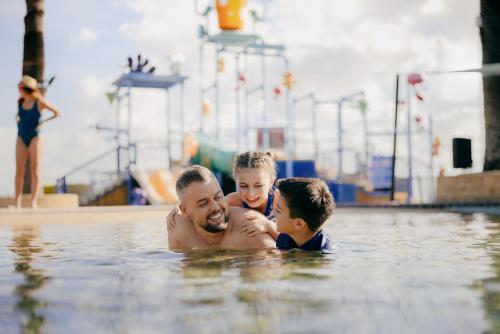 This hugely popular family resort has a water play park and year round heated pool plus has thousands of reviews across Trip Advisor and booking.com. People love its convenient location at Sea World and how family friendly the resort is with young children.
Mermaid Beach
Turtle Beach Resort
This extremely popular family resort isn't luxury but it is mid range, well loved and has many repeat customers (which you will see in the comments in the reviews). The pools are heated year round to 26 degrees (just not the waterslide/water play, I rang to check) making it a great option for comfortable swimming temperature with kids in winter.
Other popular features are the kids club, free parking and being 300 metres from a patrolled surf beach. Mermaid beach is the next suburb south of Broadbeach (making it two suburbs south of Surfers Paradise).
Reviews across all platforms indicated there has been a lot of happy family holidays at turtle beach resort! When I was a wholesale travel agent this property was regularly requested by travel agents for families looking for a fun holiday resort.
---
Not booking yet? Pin to Pinterest to refer to later!
---
Also read:
---
Some planning tips
Choosing a Hotel Room v Apartment
If you prefer to cook for yourself or just want seperate room for friends or to put the kids to bed while you sit up, an apartment is the best option. One thing to watch out for when booking an apartment is that in some properties the rooms can be privately owned and therefor renovated to varying standards so its a good idea to check out reviews before booking. These are some of the most popular and well reviewed apartments with a heated pool on the gold coast.
However you will be able to get a higher standard of accommodation cheaper if you book a studio/hotel room with double beds.
Choosing where to stay on the Goldcoast with a heated pool
The Goldcoast is actually a tourism region that includes a long stretch of the coast (and a bit of the nearby hinterland) but often when Australians refer to a holiday on the Gold Coast we mean a holiday in Surfers Paradise.
The region is famous for its long beaches and fun lifestyle, with plenty to offer families, friends and couples. This guide will focus primarily on Surfers Paradise but does include some options for surrounding areas including Broadbeach and main beach.
The area is the traditional home of the Yugambey Language People. You can learn more about the First Nations culture of the region at the Jellurgal Cultural Centre.
Choosing a suburb Surfers Paradise v Broadbeach v Main beach + other options
It's a good idea to think about how you plan on spending your time when choosing where to stay.
Cavill Avenue in Surfers Paradise is the traditional hub however now there are also loads of great local cafes, restaurants and shopping spread out further afield. It is still a convenient area to catch buses, get transfers and be centrally located to things in both directions plus easily get an uber to restaurants, the casino, shopping and shows.
However many visitors also stay in other suburbs for their proximity to shopping, the casino or quieter beaches and some people are reporting that they like the vibe more and feel a bit safer in suburbs like Broadbeach (this is because Cavill can have a fair party vibe into the evening on weekends). There are also some great value accommodation options out of Surfers Paradise. The closer parts of Broadbeach and Main beach are still walking distance from central surfers paradise if you don't mind walking a few km's.
One of the pros of staying in southern or northern Surfers Paradise, south into Broadbeach and north into main beach is that there are absolute beachfront accommodation options. So if you plan on spending lots of time on the beach, or just don't want to worry about crossing roads with small children then this is something to think about. Also consider choosing to be near a patrolled beach for safe swimming.
If you don't need to be right in surfers paradise people often stay further north or south, beyond these suburbs to take advantage of quieter/less tourist focused regions and good value apartments and hotels.
Getting Around the Gold Coast
Ubers, taxis an hire cars are all available as well as private transfers and are generally the quickest way to get to many places beyond walking distance and from the airport.
However if you are travelling on a budget or just like to spend money on more fun things than transport, you can purchase passes that combine airport transfers & theme park transfers + you can buy unlimited travel day passes for the local bus networks.